Turbo Sifter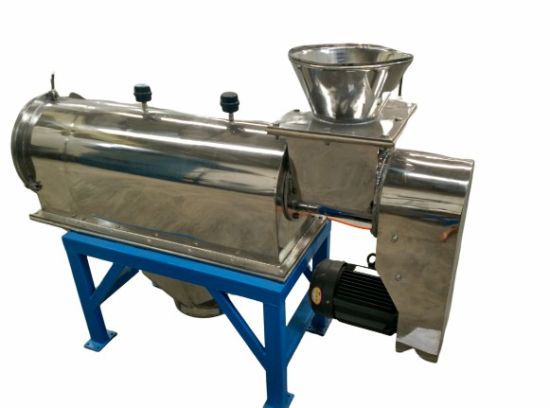 Application: all kinds of starch, glucose powder, xylitol, soy protein, peanut protein, vitamin C, sorbitol, Ganoderma lucidum powder, malt powder, coffee powder, bread flour, wheat flour, etc.

What is Centrifugal Sifter?
Centrifugal sifter works on the principal of centrifugal force. The Rotary Sifter enables screening by pushing the product particles through the mesh using a screw conveyor or rotating paddles.
Centrifugal Sifter is used to screen a large amount of materials at high speed and more efficiently, allowing foreign matter to be separated from powder and particles, and used to sieving and sieving high-capacity powders or particles within 50-600 mesh,the output is 5-10 times of other sieves.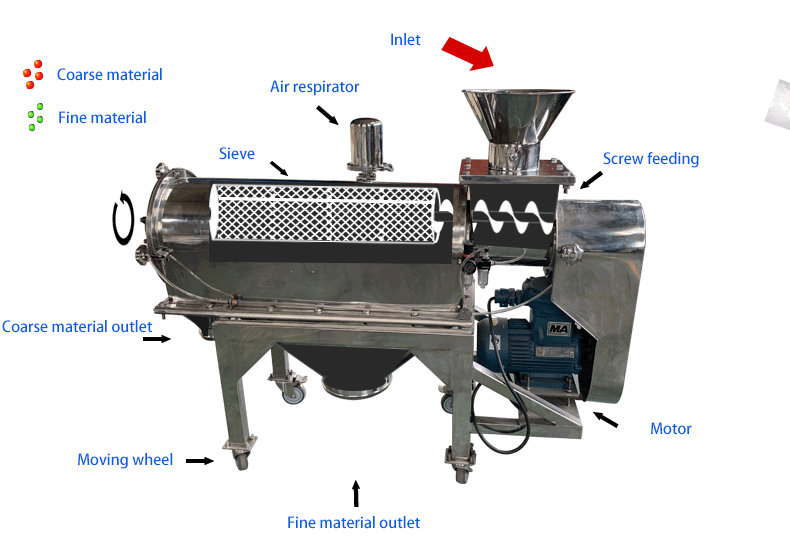 Range of Centrifugal Sifter
Manufactured from low carbon steel, stainless steel 304L and 316L, the throughput ranges from 1 to 40 tons/hour.
3 models, depending on the required flow rate: RS200, RS300 or RS900
The centrifugal sifter ensures a clean product without agglomeration, no debris and protects your powder handling production line from mechanical damage. Therefore, it ensures a high-quality final product suitable for the food, pharmaceutical, chemical and synthetic industries.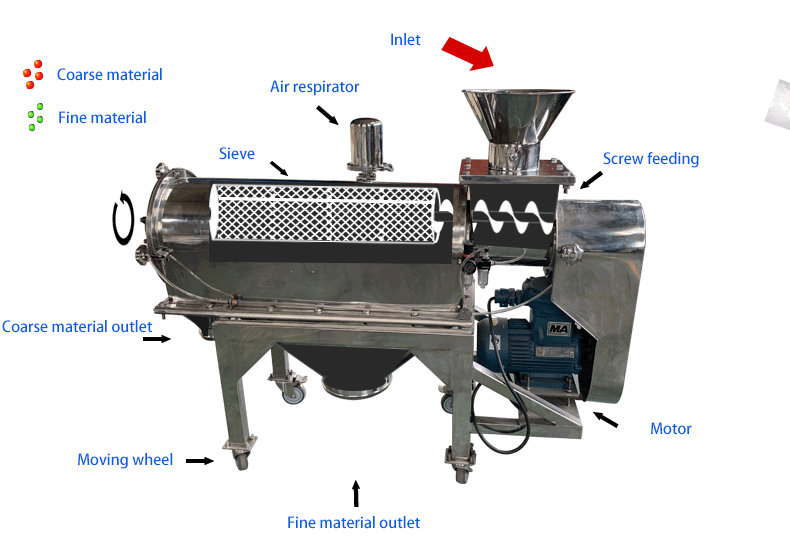 Advantages of Centrifugal Sifter
1. High screening accuracy

Suitable for powders in the range of 80-530 mesh, especially suitable for screening fine powders, light specific gravity, easy to adhere to sticky powder or materials with electrostatic reaction.

2. No network blocking

The screen machine adopts fiber mesh to screen to avoid the phenomenon of electrostatic reaction, and can completely solve the problem that ordinary screens cannot screen.

3. High screening efficiency

The net can be automatically cleaned, and the agglomerated material can be re-crushed, and the screening efficiency can reach more than 95%.

4. No dust

The entire screening cylinder can be sealed with a sealed isolation cover to avoid dust pollution of materials during the screening cycle.

5. Can work continuously

It can be used in single or multiple machines, flexible and convenient to move, long-term continuous operation, safe and reliable.

6. New design

The gas protection system transmits the purified air to both ends of the equipment, which can effectively reduce the temperature produced by the equipment during operation.
How Does Centrifugal Sifter Works?
The material is fed into the centrifugal sifter inlet and accelerated by the auger. The auger moves the materials feeds the cylindrical sieve chamber, the material in the sieve chamber is collected by the sieve, the rotating blade/blade assembly and the push screen.The blades on the blade assembly are set in a spiral structure to move the material and screen the entire length of the screen at the optimal screening speed. It is suitable for any different application. The fine materials pass through the screen and are collected at the outlet of the main screen. / Or foreign materials are moved to the end of the screen chamber, after passing through the end baffle, and discharged through a separate smaller outlet.s
Centrifugal Sifter Specifications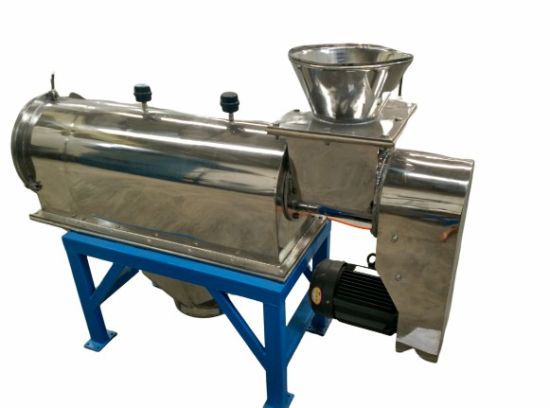 | | | | | | | | | | | |
| --- | --- | --- | --- | --- | --- | --- | --- | --- | --- | --- |
| Model | A | B | C | D | E | F | G | H | I | J |
| TS18-65 | 1430 | 460 | 420 | 1005 | 135 | 230 | 250 | 330 | 340 | 210 |
| TS30-100 | 1845 | 655 | 766 | 1240 | 320 | 285 | 300 | 350 | 380 | 290 |
| TS50-130 | 2230 | 870 | 790 | 1775 | 280 | 515 | 150 | 660 | 400 | 485 |
| | | | |
| --- | --- | --- | --- |
| Model | TS18-65 | TS30-100 | TS50-130 |
| A | 1430 | 1845 | 2230 |
| B | 460 | 655 | 870 |
| C | 420 | 766 | 790 |
| D | 1005 | 1240 | 1775 |
| E | 135 | 320 | 280 |
| F | 230 | 285 | 515 |
| G | 250 | 300 | 150 |
| H | 330 | 350 | 660 |
| I | 340 | 380 | 400 |
| J | 210 | 290 | 485 |
Material
Screen (mesh)
Capacity(kg/h)
Model
Light calcium powder
120-180
600
TS18-65
Heavy calcium powder
400
800
TS18-65
starch
300
500
TS18-65
Zinc powder
325
900
TS18-65
Fly ash
120-200
364
TS18-65
Medicine powder
120-160
1000
TS30-100
Quartz powder
180-270
1280
TS30-100
Wood flour
100-300
2000
TS50-130
Mica powder
300-400
1500
TS50-130